KitchenAid KFIS29PBMS 29 Cu. Ft. French Door Stainless Steel Review
$3,099.00
Better than
69%
of Reviewed Refrigerators

Usability
Ease of Access
Getting to food shouldn't ever be a huge issue with this fridge. Sure, there's always the possibility that you may lose something in the rear of the fridge; if you like to overstock, it's inevitable. As long as you don't shop for food as though the world may end next Tuesday, you should be able to reach items without an issue. The freezer is actually quite accessible, even more so than usual for a pull-out compartment: the drawers slide out very far, and the buckets aren't so deep that you'd risk getting frost bite every time you wanted something at the very bottom.
Controls
The external control panel does a nice job blending in with the stainless finish, but it's still easy to read and use. When the fridge is left alone, the control screen remains blank, but the images on it light up as soon as you touch one of its buttons. In an unusual design twist, the indicator symbols here are lit using straight white light, not blue or red or any other typically used color.
The controls are quite basic: there are buttons for the dispenser light, a control lock, temperature adjustments, and a few other standard features. It uses a touch-panel set up, but the buttons themselves respond without having to bear down on them as though your life depended on it. We didn't have any issues using the product's controls, and we imagine you won't either.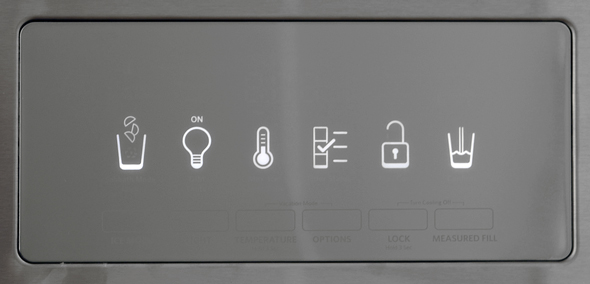 Water Dispenser
The dispenser is quite simple: there are two paddles, one of which you push for water, the other for ice. It's a traditional set up, and one that won't pose a challenge to any consumer.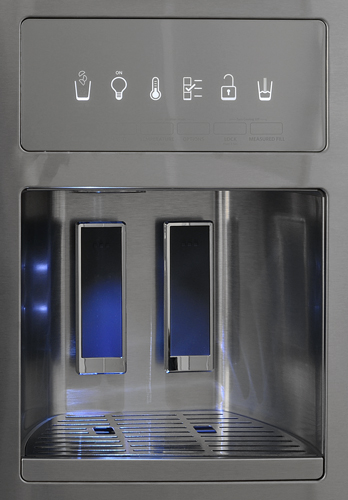 Ice Maker
As mentioned above, the ice maker is located entirely on the left fridge door. It has a clear window in the front that allows you to see how full the ice maker is; the panel that this window is built into can be opened like a door, revealing a smaller removable ice bin inside. It's very easy to take out and put back, making the task of providing bulk ice an effortless chore.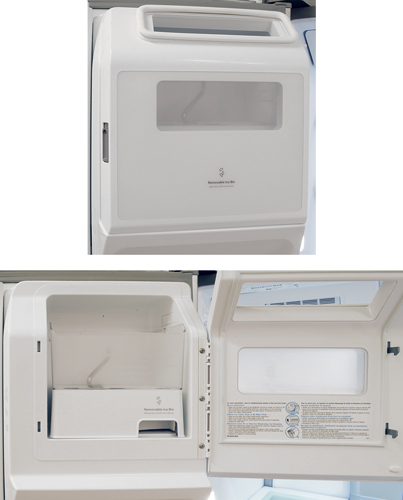 Cleaning
We've never been a fan of rear-mounted shelves, and the heavy ones found in the KitchenAid aren't a treat to remove. Getting them out to administer a thorough cleaning isn't hard, it's just annoying. They do come with minor spill protection on the edges, however, which is a plus. The door shelves are almost entirely self-contained, so any spills which happen there should remain in one spot until you have a chance to deal with it.
Noise
We never noticed any unusual sounds coming from our fridge. At one point, we thought it had started speaking, but after a few minutes of scared confusion and a phone call to the local priest, we realized it was just some folks down the hall.
Other Features