KitchenAid KFIS29PBMS 29 Cu. Ft. French Door Stainless Steel Review
$3,099.00
Better than
69%
of Reviewed Refrigerators

Performance
Fridge Temperature
True, the average temperature in the center of the KitchenAid's fridge compartment was the ideal 37 degrees Fahrenheit. That comes with a slight caveat, however: temperatures average two degrees cooler at the top, and two degrees warmer at the bottom. Some temperature shift in fridges this size is inevitable, but a full five degrees is a bit disappointing. Luckily, temperatures only shifted about one quarter of a degree over time regardless of where our sensor was placed, which is excellent. As long as you remember to keep highly perishable items at the top, such as soft cheeses or other dairy products, you should be fine.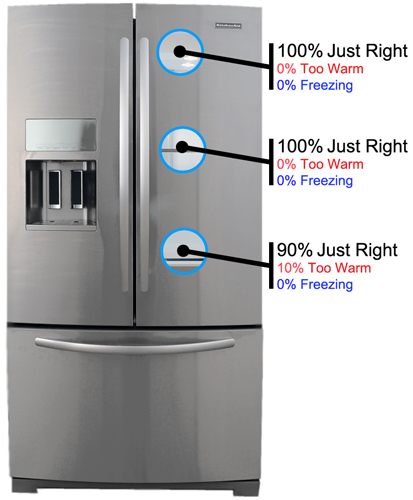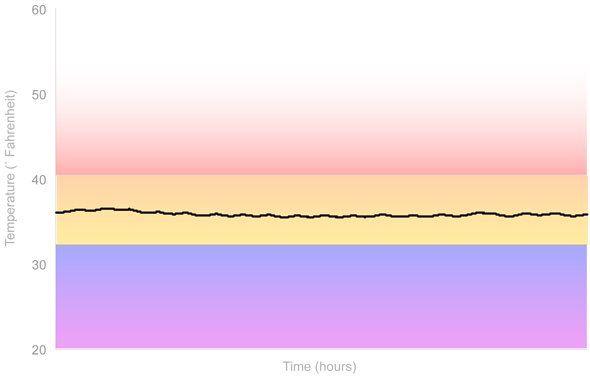 Freezer Temperature
It's hard to be angry about the test results that came out of the KitchenAid's freezer. True, temperatures varied widely from top to bottom—almost ten degrees, in fact. We were momentarily perplexed by this given the freezer's fairly short height; it makes sense, however, when you consider the fact that the number of drawers meant the air had a lot of obstacles to maneuver around.
The good news is that the average temperature was almost one and a half degrees below zero. Even though the temperature varied from top to bottom, food was never in danger of being thawed out. True, it does mean there is a slight chance of freezer burn—the average fluctuation over time was about a full degree—but the incredibly low temperatures works to slow that process down.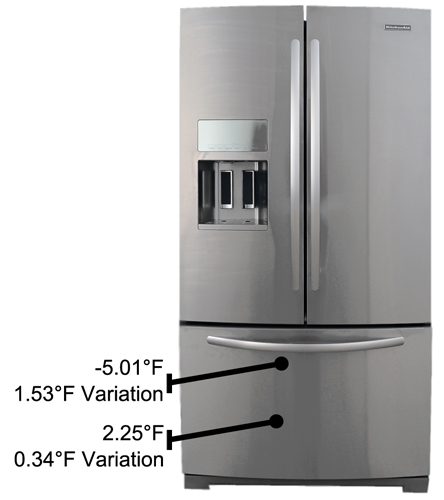 Vegetable Drawer
The vegetable drawers in the KitchenAid are quite unusual. According to KitchenAid, they automatically adjust to whatever setting will best care for their contents. The manual is very evasive about how this works—it just says it happens. We test moisture retention using a water-filled floral foam ball which mimics the water retaining properties of a carrot. As for what the fridge "sensed" when we put it in there, no one can say. What we do know is that it lost an average of 0.18 grams of water per hour on average, a disappointingly high number. It's not terrible, but considering how well the last KitchenAid we tested did in this category, we expected better.
It's worth noting that this particular model comes equipped with KitchenAid's Preserva technology. You can attach a filter onto the inside of the vegetable drawer which is meant to absorb excess ethylene. This gas is responsible for the degradation of produce; for instance, it's what causes sliced apples to turn brown. Removing this harmful gas theoretically prolongs the lifespan of stored produce, resulting in less food and money wasted.
Power Loss
The KitchenAid very soundly passed our power loss test. Keeping in mind that we made sure the freezer door remained closed after we pulled the plug, the KitchenAid's internal freezer temperature hadn't even broken 28 degrees after a full 36 hours had passed. If you live in an area that's prone to black outs, you can take comfort in knowing that anything placed inside this fridge should be safe.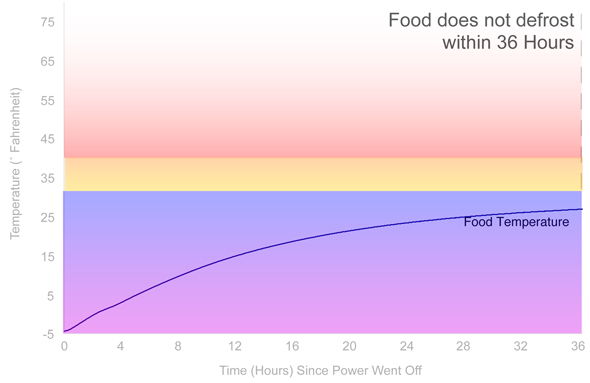 Freezing Performance
Displaying what we would call adequate performance, the KitchenAid froze our room-temperature test materials in one hour and 30 minutes. In an ideal world, we could all instantly flash freeze our food, trapping in all the textures and nutrients at their peak. Generally, the best we see is about an hour for freezing temperatures to be reached; an hour and a half is respectable, but it's not going to win any awards.