GE Adora DSHS6VGBSS 25.9 Cu. Ft. Side by Side Stainless Steel Review
$1,499.00
Better than
51%
of Reviewed Refrigerators
Storage Space
Usable Space
Side-by-sides aren't exactly known for being cavernous; the tall, thin compartments make for narrow storage space. That said, the GE Adora can fit in an average amount of food in its fridge. With 10.51 cubic feet of usable space spread out over four shelves and three drawers, it's neither impressively large or disappointingly small.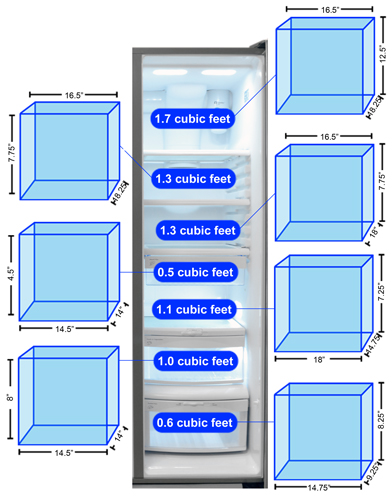 That total also includes the ample storage available on the fridge door. With four self-contained buckets shelves and a dairy bin, this door can actually hold more than many similar models. The three larger shelves are deep enough to hold two gallon-sized containers each, as long as you leave enough vertical space for them to fit.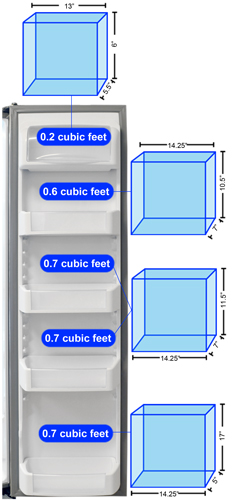 The sizable ice maker inevitably means that the freezer in a side-by-side is going to be significantly smaller than the fridge portion. However, this GE Adora actually has as much storage as some top and bottom-freezer models, which typically offer more space. With four shelves and a pull-out bucket, this appliance can hold an impressive 5.52 cubic feet worth of items.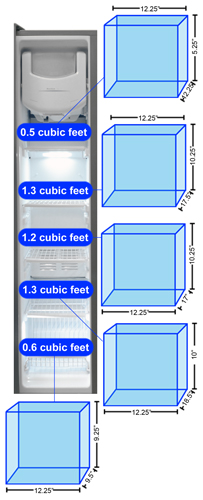 The freezer door also suffers as a result of the through-the-door ice dispenser. It has a small, shallow shelf at the very top, as well as three adjustable shelves on the bottom. The lower ones aren't nearly as big as the ones on the fridge door, but they can hold things such as a pint of ice cream or an ice pack with relative ease.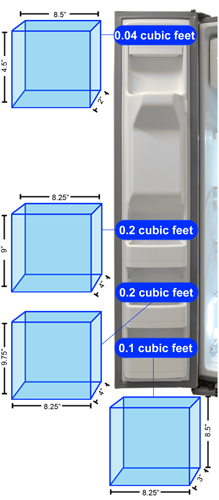 Below are the manufacturers own figures for capacity, and our own measurements for usable capacity. The manufacturers figures do not take account of the shelves, drawers and other removable features, but our measurements do account for the space these take up.