GE Adora DSHS6VGBSS 25.9 Cu. Ft. Side by Side Stainless Steel Review
$1,499.00
Better than
50%
of Reviewed Refrigerators
Performance
Fridge Temperature
The fridge in the GE Adora was, unfortunately, rather disappointing. The top and middle thirds of the fridge averaged just under the ideal 37 degrees, but they fluctuated over half a degree over time. The more temperatures fluctuate, the faster food will spoil. It also fluctuated near the bottom, but the difference here is that the average temperature was 39 degrees, almost a full three degrees warmer. Produce is usually alright when it's stored at a slightly warmer degree than other refrigerated items, but there are other fridges that do a better job of creating a uniform temperature.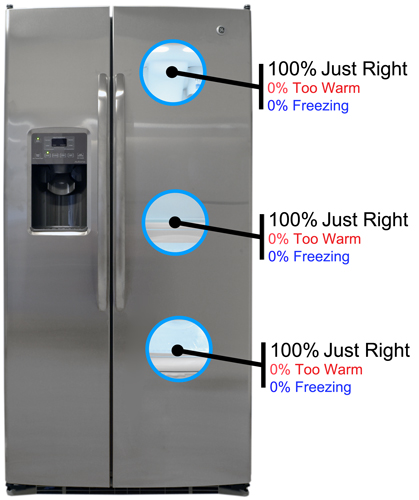 Freezer Temperature
The exterior thermometer might have said the freezer was at zero degrees, but our test meters showed something quite different. At the top of the freezer, right near the ice maker, temperatures were almost two below zero, with an average fluctuation over time of a degree and a half. The bottom of the freezer, on the other hand, averaged about 5 degrees Fahrenheit—that's a seven degree difference—and had an average fluctuation of about half of a degree. Side-by-side's have traditionally had difficulties matching the temperatures at the top to those on the bottom, but this much of a gap is far larger than it should be. At the very least, those fluctuations aren't huge, so even though your food isn't freezing at a consistent temperature, it should take a little while before freezer burn sets in.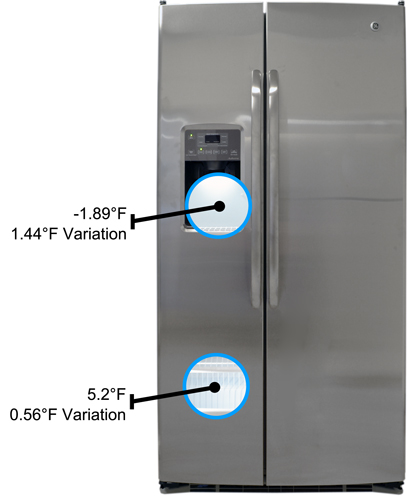 Vegetable Drawer
Continuing the trend of questionable performance, we found that the GE Adora did a rather poor job of retaining moisture in its vegetable drawer. Despite turning up the controls to the highest humidity retention level possible, this machine lost an average of 0.23 grams of moisture per hour. At that rate, vegetables will start to wilt faster than they would in many other models that we've tested; any carrots that started out fresh could very well become shriveled orange toothpicks if you leave them in there too long.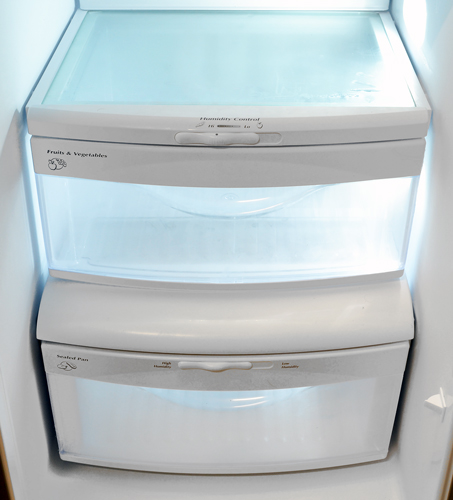 Power Loss
The GE Adora's freezer managed to keep food frozen after 36 hours, though it did get perilously close to breaking that degree barrier. If your appliance loses power for longer than that, you may end up having to throw out some formerly frozen items.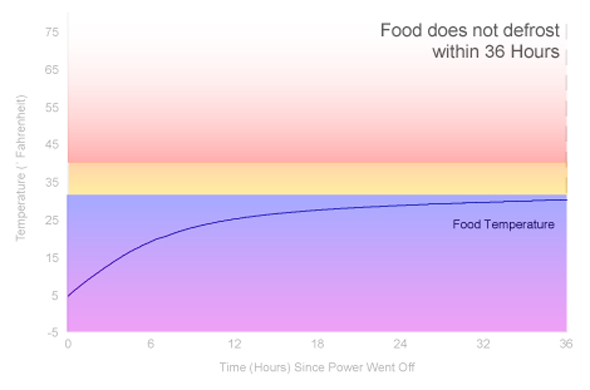 Freezing Performance
It took an unusually long time for the GE Adora to freeze our room-temperature test materials. Ideally, it would take no time at all to freeze an item, a technique referred to as "flash freezing." Unless you're getting an industrial freezer, this simply won't happen, and some of the better appliances that we've tested can get the time down to about an hour at the most. The GE Adora, however, took nearly twice as long—our materials only reached freezing after 1 hour and 54 minutes. This is long enough that frozen meats and other items could have a substantially reduced texture quality when thawed.